Debra, Thomas & Ava Doran
Dear Jim,
Thank you for the hard work & professionalism shown to myself, Thomas, Ava & our families on our wedding day.We very much appreciate everything that you did so we could have a memorable wedding day. We just viewed the wedding ceremony & I have to say it is absolutely fantastic. My parents & Thomas could not get over how professional & well put together it was. We are so happy you were our videographer for our special day - you did a remarkable job & many thanks again.
Fr Sean Kelly, OFM, Cap.
While it wasn't exactly a wedding as such I asked Jim to record my Ordination and First Mass in Ballinamore, Co. Leitrim on December 6th and 7th respectively. What I received was the most professional piece of viewing that I could ever have hoped for. Jim's eye for detail and adding beautiful personal touches made the DVDs a joy to watch over and over again. There were times I thought Jim was not present at the events so unobtrusive as he is. Jim is truly gifted at his art and makes every occasion a lasting memory for all concerned.
Keep up the good work Jim and I wish you many many years of successful recording.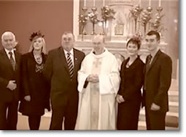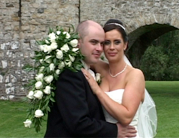 Lynn and Enda McArdle
Jim was an absolute gentleman on our wedding day so professional in every way. He has an amazing way of capturing every moment of your day without you even realising he is there.
Extremely accommodating in every sense of the word. We would highly recommend him to anyone who wants a brilliant videographer to capture the most magical day of your life.
Thank you so much Jim we wish you all the best for your future in business.
Olivia & Padraig
Dear Jim,
Just writing to say a massive thank you for the wedding dvd. We are absolutely thrilled with it. You captured all the important moments beautifully. The music you added was perfect also. You were completely unobtrusive the whole day….we forgot you were even there!
Would not hesitate to recommend you to any of my friends considering getting a dvd.
Thanks so much again!